From February 20, 1947, to an unknown date in 2001, ROLLADIUM was host to hundreds of thousands of roller skaters in San Mateo, California; it was the second rink in that city, a post-war rink -- as the prewar rink, Peninsula Skating Rink, was almost burned down during the second world war.
Rolladium's distinctive logo, atop the marquee, is partly "hidden" by a giant roller skate; in fact, as you'll see, the world's largest roller skate.
Ted Stollery -- Edward Wilfrid Stollery (Senior) -- the second son of David John Stollery -- developed an ice cream stand at San Mateo's Pacific Beach; the county-owned property included the boardwalk and a dance pavilion, and by 1933 there were plans afoot to build the "Coney Island Of The West." Those plans failed, due to tight money.

The dance pavilion, however, lured Ted and his new wife, "Maggie" -- Pearl Margarete Wessel Hamilton -- into thinking about a larger business of their own: a sports "palace" where bike riders would compete on a banked track...and they did.

Pacific City (originally Pacific Beach) Pavilion was quickly renamed Peninsula Skating Rink, and Ted and Maggie bought clamp-on skates in San Francisco to put on their skaters' shoes. The roller rink was a success.

Until 1942, when the US was caught up in a war frenzy --and San Mateo County cancelled the entertainment center to relet the rink as a housing for aircraft parts construction. A fire in late 1945 destroyed part of the building; the maple floor, however, was rescued by now ex-Staff Sergeant Stollery (he served 18 months in the US Army) for his new plans -- ROLLADIUM.

Still "under construction"
You may have guessed: this web site is under active construction. Memorabilia is being processed for addition to the site, space permitting. Additional sites will be used as needed to be a tribute to the memories of Ted and Margaret Stollery.

Editor, their oldest son Ed. (Edward W. Stollery II -- not Junior!)
Send an email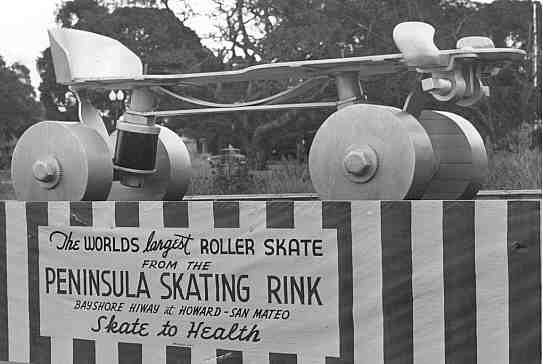 You can see that only the wheels lack any detail; they're large drums (or spools, ironic: the original roller skate description is of wooden spools). In the black and white original, we can see the detail that Ted Stollery put into his construction, about 1937 or 1938, for his Pacific City Roller Rink...well, Coyote Point (today) has had several names in the past, and this photo actually predates Rolladium (by almost 10 years) but it's the same skate. (Also missing is the ankle strap, which on the real skates went through slots in the heel plate -- at the rear left of the skate; here, the plates are solid.)
Send an email